If Sylvester Stallone ever makes Rocky 7, then the Rocky franchise can finally redeem Rocky Balboa's greatest failure. It's been over fifteen years since Stallone starred in Rocky Balboa, the last standalone film featuring his most famous character touching gloves one last time to prove that he still has what it takes in the ring. Given Stallone's absence in Creed 3, the first time he hasn't appeared in a Rocky movie for 47 years, fans have been left wondering what's next for The Italian Stallion, and they're hoping it involves a seventh film in the Rocky franchise.
Even though Stallone wrote and starred in the first Rocky, the rights to the character belong to Irwin Winkler, and that isn't likely to change any time soon. If Stallone had his way, he'd be making Rocky 7 right now between filming his new reality show and The Tulsa King, because there's still some unfinished business that Rocky has to contend with. One aspect of being a boxer has always seemed to elude him, and unless he wants to remain an underdog forever regarding his family, he'll need to go the distance.
Rocky And Robert Never Seem To Maintain A Relationship
Rocky might have improved his boxing score, but every time he tries to have a relationship with his son, Robert, something always goes wrong. In Rocky V, when he became obsessed with training Tommy Gunn, it was at the expense of giving his son the attention he deserved while he was being bullied at school. After Stallone killed off Adrian in Rocky Balboa, the relationship between Rocky and Robert got even worse, and they were estranged again when they reconnected in Creed.
Despite always being on the outs, Rocky and Robert's relationship finally seemed to gain some traction at the end of Creed 2, when Robert introduced Rocky to his grandson, Logan. It seemed like for the first time, Rocky might finally put his family ahead of his career and apply the same spirit and determination he did in the ring back into his flesh and blood. Unfortunately, right when it looked like Rocky understood that the only legacy that mattered wasn't in a ring but at home, the movie ended to continue telling the story of Adonis Creed and his new family in Creed 3.
RELATED: Creed 3 Proves The Rocky Franchise Completely Failed Adrian
Rocky 7 Can Finally Bring Rocky And Robert Together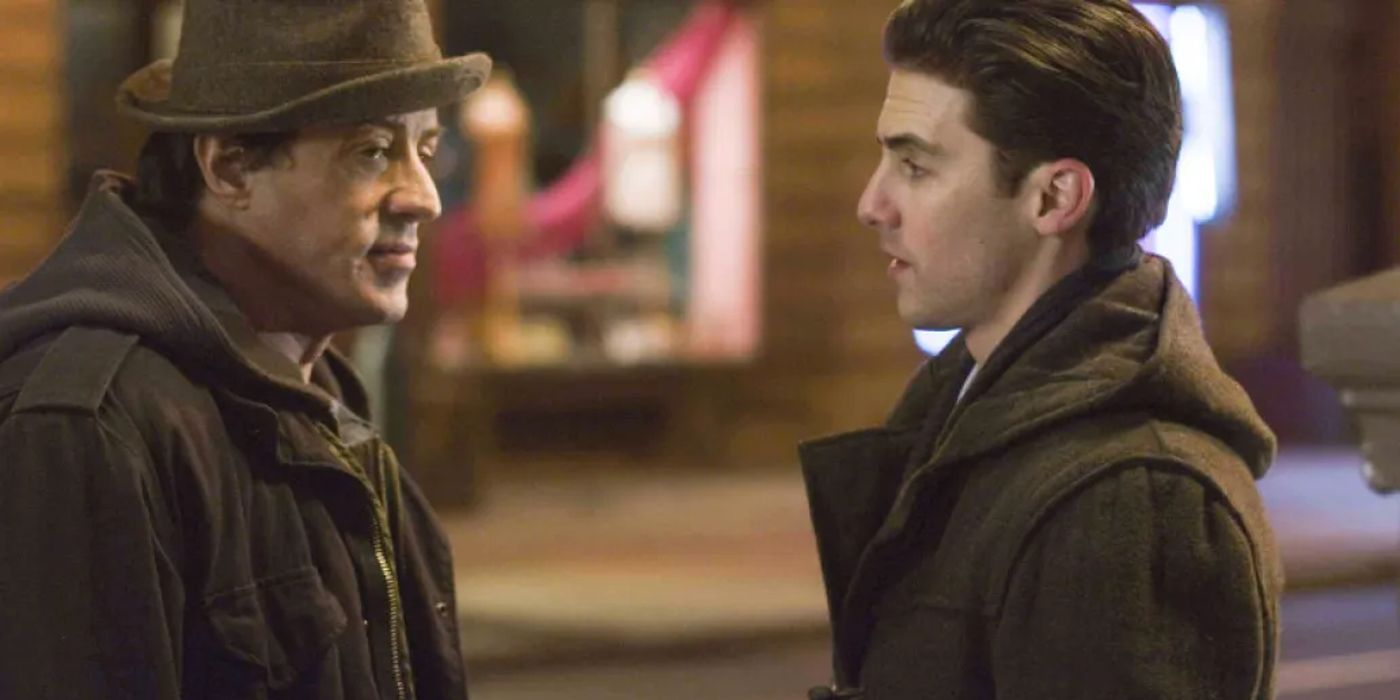 If Rocky 7 gets made, it should focus on Rocky finally having a great relationship with Robert throughout the entire movie, rather than constantly being at odds. If it doesn't focus on Rocky getting back into the ring, then maybe it can involve the two men growing closer while Rocky trains his grandson Logan to be the next World Heavyweight Champion. The conflict should come from an external source, not between Rocky and Robert, like Rocky's cancer coming back and Robert being there for him while he fights the invisible enemy that claimed his wife.
Creed 3 makes Rocky 7 possible with Stallone, and he deserves to have a movie independent of the Creed series so that the Balboa family can finally find some peace. Too often Rocky and Robert have been brought together only to be torn apart by the next movie, and fans deserve to see them thriving positively which sets an example for a father and son relationship. If Rocky has one thing he's known for, it should be for being one of the greatest fathers in the world as well as one of the greatest boxers. Right now, however, the undefeated opponent, time, is not on his side in the Rocky movies.
Source link