The Gas Mask in Resident Evil 4 Remake gives players Aim Assist during combat, but only when they equip this unique accessory after learning how to unlock the item. Out of five unique accessories that change Leon's gameplay, the Gas Mask might be the one players have the easiest time getting. However, players might have a hard time finding or using this accessory once they unlock it, as Aim Assist does not activate automatically.
The Extra Content Shop hosts the Gas Mask accessory as an item players must buy for 2,000 CP (Challenge Points) after it becomes available. CP is earned by finishing special challenges or objectives during story chapters and only buys Extra Content such as costumes or accessories. Other distinct items like weapon attachments or gun upgrades are purchased through the Merchant in the game's story using Pesetas or Spinels.
Related: How to Find Every Weapon Attachment in Resident Evil 4 Remake
How to Unlock The Gas Mask
The Peerless Agent challenge ties directly to unlocking the Gas Mask accessory, which states players need to complete the game's campaign on Professional difficulty with any Rank. Unlike other items, such as the Cat Ears in RE4 Remake, players do not have to achieve an S+ Rank or higher to have the Gas Mask show up in the Extra Content Store. Whether on New Game+ or not, the special accessory unlocks instantly once the credits roll.
The only way to unlock the Gas Mask in the Extra Contents Shop is to beat the game on Professional difficulty with any Rank.
Unlocking the Gas Mask gives players Aim Assist on all difficulties, a feature normally reserved for Assisted difficulty. Going to the "Extras" tab after purchasing this item lets players put it on by selecting it in the "Leon's Accessories" menu. Normally, Aim Assist does lower the player's chances of earning higher Ranks on more challenging difficulties, but the Gas Mask adds this system as a customized option for players who still wish to use it.
How to Activate The Gas Mask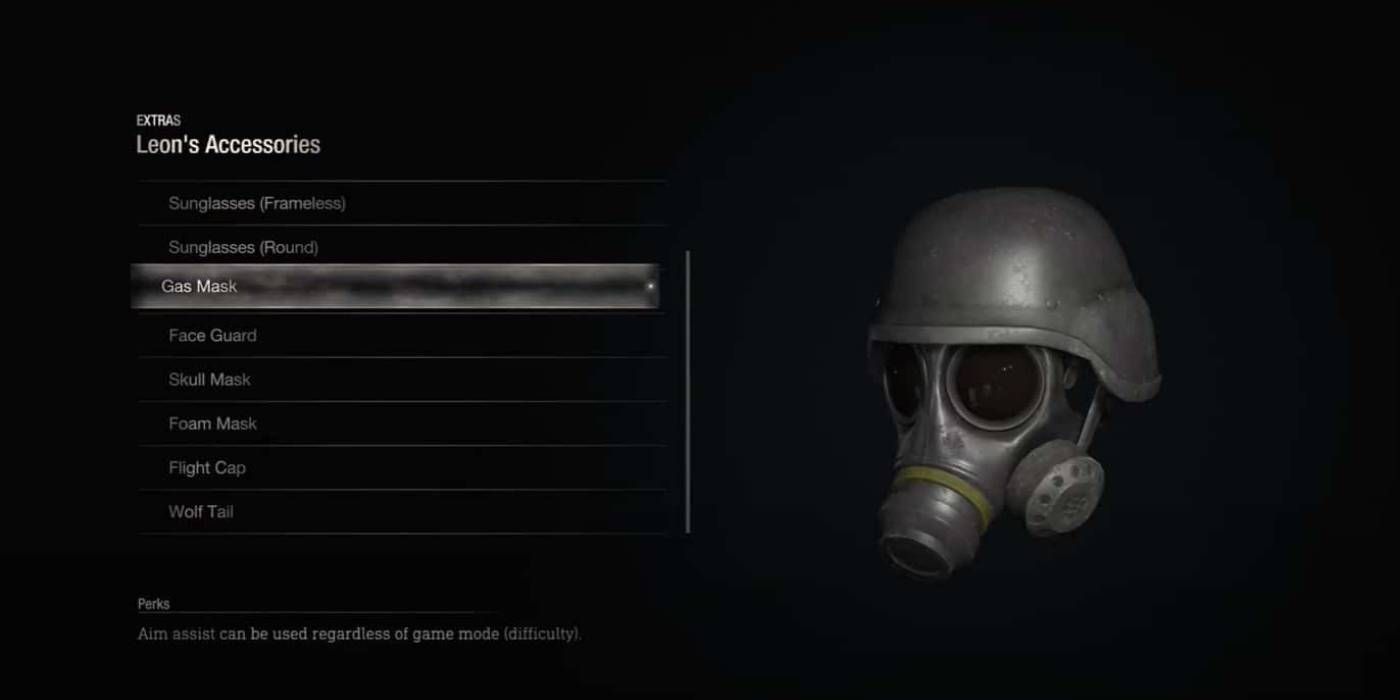 The Aim Assist of the Gas Mask does not activate immediately, as players must go to the "Controls" tab first after equipping the item. The "Aim Assist Type" prompt seen in this tab lets players choose either "Snap" or "Snap and Follow" when choosing an Aim type for regular play.
Although the Gas Mask may seem incredibly powerful, the Hunk-inspired cosmetic acts as the only head accessory Leon may have on at once. The Infinite ammunition provided by the Cat Ears or even the bonus to Leon's health with the Chicken Hat is a bit more useful than the Gas Mask.
Yet, the Gas Mask remains one of the best items for players to learn how to unlock first since the Aim Assist it provides makes it a straightforward accessory to get quickly in Resident Evil 4 Remake.
Franchise:

Resident Evil

Platform:

Microsoft Windows, PlayStation 4, PlayStation 5, Steam, Xbox Series X/S

Released:

2023-03-24

Developer:

Capcom Division 1

Publisher:

Capcom

Genre:

Survival Horror, Action

ESRB:

M

Summary:

Resident Evil 4 Remake is a reimagining of the original classic released on the Nintendo GameCube in 2005. A survivor of the Racoon City incident, Leon S. Kennedy, has been conscripted to serve as a member of the President of the United States Secret Service. However, with Umbrella disassembled, a new threat emerges – a cult known as the Los Illuminados, led by Osmund Saddler. Saddler has kidnapped the President's daughter, Ashley Graham, and Leon has been dispatched to her last known location – a remote region deep in the heart of Spain. Carrying a heavy heart over his failure to stop Raccoon city from being wiped off of the face of the Earth, Leon looks to redeem himself by saving Ashley and putting a stop to this new threat. Resident Evil 4 Remake will follow in a similar vein as the Resident Evil 2 & 3 remakes, with overhauled graphics and the evolved third-person action/horror gameplay the series has become known for.

How Long To Beat:

15 hours

Legendary Edition Available:

Resident Evil 4: Deluxe Edition

Prequel:

Resident Evil 3

Sequel:

Resident Evil 5
Source link